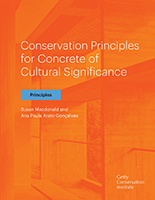 Recently, the Getty Conservation Institute published the Conservation Principles for Concrete of Cultural Significance (2020), which synthesizes current best practices in general repair of concrete and cultural conservation by providing a framework for architects, engineers, conservators, contractors, and stewards to make sound, informed decisions for conserving culturally significant concrete buildings and structures.
The publication is available in PDF format for free download.
And on 2 December 2020 (5am 3 Dec AEDT), the GCI will host a free 90 minute virtual event bringing together a multidisciplinary group of professionals to discuss the importance of conserving historic concrete, and the importance of using a sound conservation methodology to guide practice.
More information, and registration, here.